SEPTEMBER 18, 2022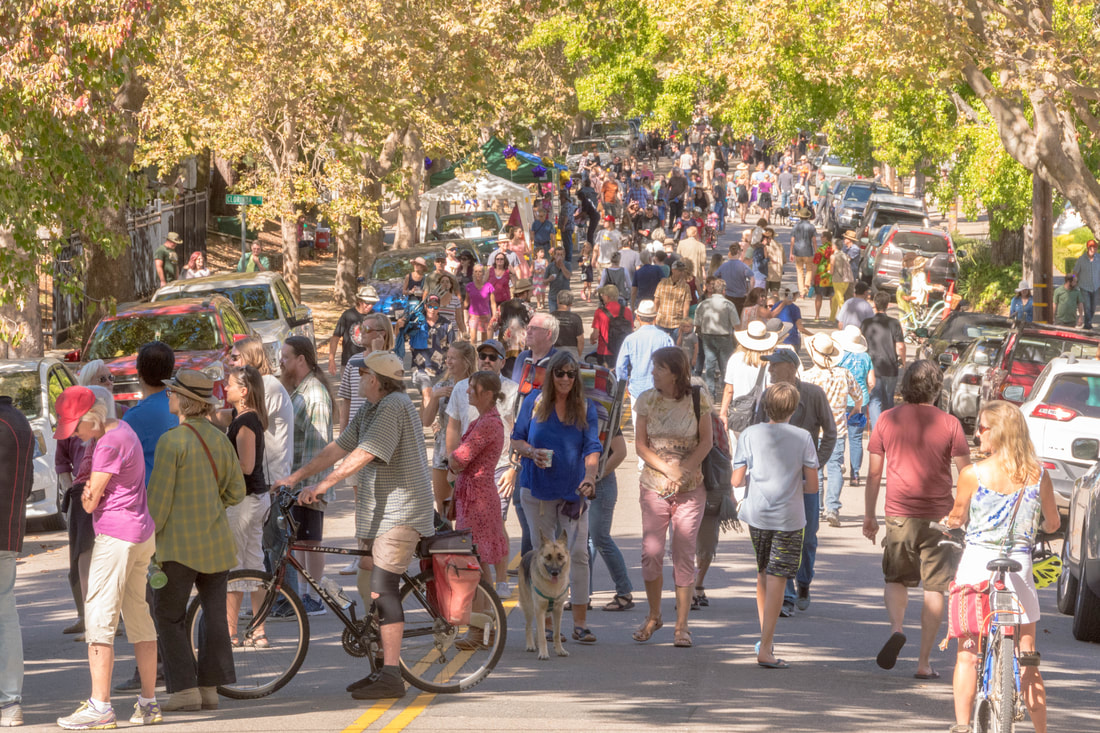 PorchFest is an annual family-friendly music event, hosted in San Rafael's Gerstle Park neighborhood. It draws tons of attendees to listen to dozens of different musical acts to playing on porches throughout the neighborhood. People stroll from porch to porch, mingling with old friends and new, while listening to local Marin County artists. Attendees can fuel up and cool down with gourmet food trucks or bring a picnic lunch to enjoy while kids play at Gerstle Park. A New Orleans Marching brass band will open the event, and a diverse set of artists are set to play, including: folk, Americana, gospel, soul, gypsy jazz, blues, Latin, funk, traditional Argentine tango, and children's music.
The 31st Annual Cotati Accordion Festival will be a two-day, multicultural, multi-generational accordion extravaganza held in La Plaza Park in downtown Cotati. Music at the festival will range from Conjunto to folk, jazz, Irish, Venezuelan, rock, classical, zydeco, western and more.
The event will include a Jam Tent, a Zydeco Dance Party, a Student Stage, the Ray's Deli Stage, and two main stages, along with over 60 vendors selling crafts, accordions, food, wine and beer.
There are so many top-notch performers who have attended the festival over the years that it would be impossible to name them all but he did make mention of a few.
AUGUST 20, 2022 SATURDAY
(PERFORMERS)

Sergei Teleshev
Maria Telesheva
Nuevos Aventurosos
Ginny Mac
Honorary Director
Lady of Spain
Alex Meixner
Cory Pesaturo
The Mad Maggies
Nathan & Jesse
Motordude Zydeco
Sheri Mignano & Jim Lehmann
Laurie & Elan
Amber Lee Baker
Art Peterson & Laurie Miller
Renee de la Prade & Leslie Jackson
Zia Villa
AUGUST 21, 2022 SUNDAY
(PERFORMERS)
Renee de la Prade & Leslie Jackson
Ginny Mac
La Agencia
Sergei Teleshev & Maria Telesheva
Lady of Spain
Matthias Matzke
Cory Pesaturo
Sam Reider & Jorge Glem
Alex Meixner
Sheri Mignano & Jim Lehmann
The Steve Balich Polka Band
California Blue Runners
Iko Ya Ya
Amber Lee Baker
Zla Vila
Nathan & Jessie
Duckmandu
FIRST EVER 2 DAY EVENT, IN ITS ELEVENTH YEAR
MUSIC LINE UP 2022
Like eucalyptus but instead of euca it's echo.
echolyptus is a five piece group based in Santa Rosa, CA. The group consists of
Jaz Pa!ge on rhythm guitar and vocals, Jacob Rosales on bass, Eve C. on lead guitar, Steven Ruiz on acoustic guitar & vocals, and César 'Crow' Lopez on drums.
Quiet Time is the super-duo collaboration of longtime Bay Area vocalists Audio Angel (The JungleSF) and Dan Brennan (The Human Condition/Foolproof Four).
Eki'Shola's music is "Half-time electronic soul for the mind" – Resident Advisor.
Hannah Jern-Miller is a guitar/harmonica player, singer, and artist from Petaluma, CA.
SEBASTIAN ST. JAMES & THE HIGHWAY POETS
"Led by Bay Area singer songwriter and Producer Sebastian Saint James the Highway Poets have an eclectic sound that lays somewhere between The Rolling Stones and The Black Keys.A modern mix of Rock, Folk and Indie Blues.
Indie musician and singer-songwriter Caitlin Jemma speaks for the multitudes on her celestial new disco-folk album, True Meaning, out September 17th on American Standard Time Records.They strive to push the barriers with honest lyrics, soul and an unforgettable one of a kind show."
SoloRio is a new Americana'n rock stone soup collaboration band based in the North Bay Area, California.
Joshua James Jackson is a singer songwriter and multi instrumentalist in Oakland, CA.
LVB's songs and lyrics invite the listener on a journey through biographical tales of joy, sorrow and defiance. A musical landscape that explores the tangle of love, longing and loss.
Sonoma County's folk trio is made up of Anita Bear Sandwina, Megan McLaughlin, and Tom Kuhn. Anita and Megan, both award-winning songwriters, met behind the microphone singing backups at a friend's show and discovered their sister- like harmony blend.
"I want to bring something new and fresh to the genre of Hip-Hop."
Born and raised in Santa Rosa, CA, has come a long way from making music with friends while attending Analy High School.
Swinging Soul" is the best term Royal Jelly Jive can find in describing their unique and intoxicating sound. Led by dynamic front-woman Jaleh, this sultry sextet rocks into uncharted musical territories with their infectious blend of modern and throwback sensibilities.
Sinaloan style band formed in Santa Rosa. Tamborazo Santo Domingo is dedicated to brighten hearts all over California.
When Beckylin's mom couldn't find a sitter and started taking her to the Rawhide (a gay country bar in SF), she never could have known that it would spawn a lifelong love of country music, but that it did.
Sean Hayes is a Bay Area singer-songwriter who makes music to dance to or cry to, or maybe both at the same time.
Celebrating Rivertown's ten year anniversary with a variety show. Special guests will take the stage with songs, skits, and other surprises.
LA GENTE SF was born in the eclectic San Francisco Bay Area and is led by Rafael Bustamante Sarria: singer-songwriter and voting member of the Recording Academy/Grammy's.
The Billie Holiday Project brings you back to the swinging Jazz clubs of the 1930's and 1940's.
Timothy O'Neil Band blends the sounds of energy ridden steam punk anthems with the soulful honesty of folk ballads.
Born in Graton, California in 2007, the The Hubbub Club includes over twenty volunteer musicians and second-line dancers who make music together in a funky, fun fashion to promote, uplift, and support our local communities.
The Crux is a mad scientist's music laboratory, where songs are presented as theatrical experiments with an odd and beautiful intensity… Lullabies to drink your morning coffee to. Gospel songs for the faithless
The King Street Giants are Bay Area Trad Jazz & more. No Trumpet Required.
TOBIAS & THE TRAVELING SPECTACULAR
A whimsical display of magic from a by gone age featuring sword swallowing, illusions, belly dancing and other flights of fancy!
Celebrate Independence Day the Marin County way! Communities across the Marin observe the 4th of July in their own unique ways. Here's what's going on in your community on Monday, July 4.
San Rafael — 2022 Marin County Fair
The 2022 Marin County Fair in San Rafael offers what is pretty much Marin County's official fireworks display. Fair admission is $20–$25 and includes free carnival rides, exhibits, music, and more. This year's fair theme is "So Happy Together!" Fireworks begin at 9:30 pm every night from June 30–July 4. Fair hours are 11 am–11 pm; last entry at 10 pm. Location: Marin County Fairgrounds, Civic Center Drive, San Rafael.
Corte Madera and Larkspur 4th of July Parade & Festival
Don't miss this year's Corte Madera-Larkspur 4th of July Parade and Festival, one of the biggest 4th of July events in Marin. The parade starts at 10:30 am and features the Famous Corte Madera Town Band, McIntosh Pipe Band, the Freedom Band, and more. Accompanying festivities take place at Corte Madera's Town Park from 9 am–5 pm.
Novato 4th of July Parade
Novato's 4th of July Parade is one of the largest in the Bay Area and takes place from 10 am to noon in downtown Novato at Grant and Railroad Avenues. Pre-parade entertainment from 9 to 9:45 am. Every year Novato hosts 15,000 to 20,000 spectators and over 100 parade entries ranging from classic cars and vintage military vehicles to Irish bagpipers and a Chinese drum and bell corps.
Sausalito 4th of July Parade & Fireworks Extravaganza
Sausalito's 4th of July parade will commence at 10 am down Bridgeway and Caledonia Street. Everyone is invited to gather for an afternoon picnic at Dunphy Park where Marin locals, The Humdinger Band will cover rock favorites from 12:30-4:30 pm from the gazebo. Come and enjoy a good old-fashioned 4th of July celebration!
Sausalito's Fireworks Extravaganza takes place at Gabrielson Park. Neon Velvet is sure to keep you dancing from 6:30-9 pm. Fireworks will begin around 9:15 pm and last for half an hour.
Walking can be very beneficial to our health. It is easy and simple to do, yet, it does a lot to our physical and mental health.
In San Francisco, people are used to walking – some do it as a form of exercise, some are just used to walking to the office or restaurants or malls. Did you know there are a lot of interesting staircases in San Francisco that were built to make it a little easier for people to walk around the town? Not to mention these stairs are so good-looking and Instagrammable! Let's discover these beautiful steps and be inspired to walk your way to a healthier and better you.
Lyon Street Steps
From the top, you will see the Palace of Fine Arts, the blue waters of the SF Bay, and parts of Marin. With more than 300 steps within the two blocks, you will feel the burn! Lyon Street steps are open to the public 24/7 and free to visit.
16th Avenue tiled steps
This 163-step staircase showcases colorful pieces of lovely spiral designs. With small sea creatures, stars, and the moon. The most famous SF mosaic stairway. Feel free to visit anytime.
Lincoln Park Steps
This 52 steps staircase is worth visiting any day of the week because of its colorful and joyful theme. Take a break using the benches between the two flights of stairs and be amazed at how beautiful this staircase is!
Arelious Walker Stairway
This mosaic tile staircase has 87 steps. The brightly colored handmade tiles were inspired by the decorative patterns drawn from cultures around the world. Also called the "Flights of Fancy," this stairway connects the isolated part of the neighborhood to the India Basin Shoreline and Bay Trail.
Hidden Garden Steps
Be mesmerized by these gorgeous mosaic tile steps that are no longer hidden from the public. Take the stairs at your pace or get in a workout by climbing 148 steps and appreciate the colorful design of snails, flowers, rainbows, dragonflies, and butterflies.
Looking for something exciting to do this spring? Visit SF Parks and create memories with your friends and loved ones.
Golden Gate Park
One of the most visited parks not only in San Francisco but in the country. This park offers many attractions, from museums to gardens and events. Explore this park's 1,017 acres and appreciate the gardens, flowers and scenic views, and all that it has to offer.
If you are up for an enchanting tour through hidden trails along the waterfalls, lakes, and ponds of Golden Gate Park, take advantage of this event only until April 30, 2022. Buy your tickets here: Golden Gate Park Walking Tour
McLaren Park
One of the largest parks in San Francisco, McLaren Park offers a wide range of both active and passive recreational opportunities. It has basketball and tennis courts, golf course, pool, five picnic areas, playgrounds, amphitheater, and more!
Washington Square Park
Established in 1847, Washington Square is one of the city's first parks. This is a gathering place that holds events like festivals and movie nights. This park also has sidewalk cafes and restaurants and churches too.
Hilltop Park
At the heart of the Bayview neighborhood, at the highest point of Bayview Hill, you will find Hilltop Park. This park is famous for its 78 feet Sundial and skatepark. Spend your weekend here with family. There are some picnic tables available if you want to stop by and eat.
Dolores Park
This park offers many activity areas like tennis court, basketball court, multi purpose court, soccer field, children's playground and more! A lot of opportunities for fun and excitement. Go visit with your friends and family. And don't forget to bring your dog too!
If you are new to hiking and looking for an easy route, this one's for you. Try this 2.5-mile kid-friendly trail and enjoy the beautiful views of nature. The route is a bit rocky, so choose footwear accordingly. For this one, please leave your dogs at home.
This beautiful redwood trail uphill is a 6.2-mile loop and is considered moderate. If you are into bird watching and nature tripping, you will definitely love this. Enjoy the hike alone or with family and friends. Unfortunately, dogs are not allowed.
Short, sweet, and strenuous! This trail is perfect for keeping the children (and children-at-heart) off the computer and enjoying the real world. Finishing the two-mile loop will surely squeeze the endorphins out of the body and bring an enchanted feeling because of the consistent elevation and a fantastic view at the top.
Fitch Mountain Park & Open Space Preserve
Need some muscle stretching together with your four-legged buddy? Try this three-mile loop to find a beautiful forest at the end of the trail, perfect to practice solitude. Just don't forget to snap a pic of your map before you head out, as the trailhead is quite tricky. An added adventure for you and your best friend!
One of the best reasons to get your heartbeat up is to take this short outer loop with your family (including your favorite pooch). Enjoy a break with beautiful benches on top of the hills. This 2.2-mile loop is worth the workout because of the wildflowers and countless oak woodlands that will quickly capture your attention. A sun-kissed skin after the hike is a plus!
Anxious about navigation? Worry no more with this 8.2-mile West Ridge Trail. This offers a well-signed, open, trail that can be friendly for first-timers (and even the hiking champions). Worth the effort because of the lake and gorgeous views of Sonoma County. Excellent for biking and trail running as well. You can bring your dog on a leash!
3 Bridges Vista Point via Causeway and East Ridge Trail
Blue sky, green grass, cooler temps, and a heart full of gratitude – these are the things you will expect as you take this 5-mile trail. This is perfect for bird watching and nature tripping with your kids and dogs as the trail has a slight elevation. It's not generally crowded, you can find your groove!
Cucina Paradiso – Italian restaurant in Petaluma (http://www.cucinaparadisopetaluma.com/)
Pasta, wine, and gnocchi? Divine. Absolutely a taste of Italy where the food excels along with the service and the ambiance. Perfect place to impress your friends. An outdoor patio is a plus if you are worried about a crowded place.
FolkTable Restaurant – Female run restaurant in Sonoma's cornerstone marketplace (https://folktable.com/)
Heaven in the first bite? It's possible at Folktable Restaurant! A healthy and delicious gem in Sonoma's cornerstone marketplace featuring its organic, fresh, local, seasonal food. Aside from the flavorful food, this female-run restaurant offers a variety of food choices perfect for family and friends.
Blue Ridge Kitchen – one of the best in Sebastopol's Barlow location (https://brkitchen.com/)
Another farm-to-table that is perfect for the health-conscious who still don't want to miss the tickle on the tongue. Every dish creates a flavor bursting memory. The owner is passionate and friendly. You will not be disappointed.
Della Fattoria (Downtown Petaluma) – beautiful brunch location & great atmosphere in Petaluma
(http://www.dellafattoria.com/)
Woke up on the wrong side of the bed? Della Fattoria has your back! With its best pastries, bread, and salad together with the most inviting coffee, your morning will surely turn around. Too bad that it's not open 24 hours to serve you, but you can always enjoy their food from 8 AM to 2 PM and take some treats to go!
HopMonk Tavern (locations in Sonoma and Sebastopol) – Live music and kid-friendly! (https://www.hopmonk.com/sonoma)
Relaxing tables under the trees, distinct bar music, great beer, and mouthwatering food with excellent service rolled into one restaurant. Oh yes, it's possible! And did I say that this is kid- and vegetarian-friendly too? Be ready to go back!